The term Promo Code is used to refer to a code that customers can type into a box on the event page and it brings up specific tickets that were previously unavailable. For a customer to use a promo code you will need a ticket set-up with them, then they can type the code into the box at the bottom of your event:

How to add Promo Codes
Once logged in to your organiser account, find the event you wish to add a promo code to, from here you will need to create the ticket you want the code applied to, or you can add a promo code onto one of the tickets you already have.
Please note:
if you add a code to a ticket it will only be visible when someone types in the code, so it's normally recommended to make a new ticket for any promo codes.
Create or open the ticket you are adding a promo code to, scroll through the ticket options until you reach a header titled 'Special offer codes' which has a green cross below it. Click on the green + to add a promo code to the ticket. This will bring up a box where you can add one or more codes for customers to access the ticket. The code will be case and symbol sensitive, so make sure customers are given the entire code as it's displayed in the box i.e. if your code is TicketSELLER#3 then provide the entire code as it appears. You can add multiple codes for the same ticket and the same code for different tickets if you wanted one code to bring up multiple tickets for a single customer.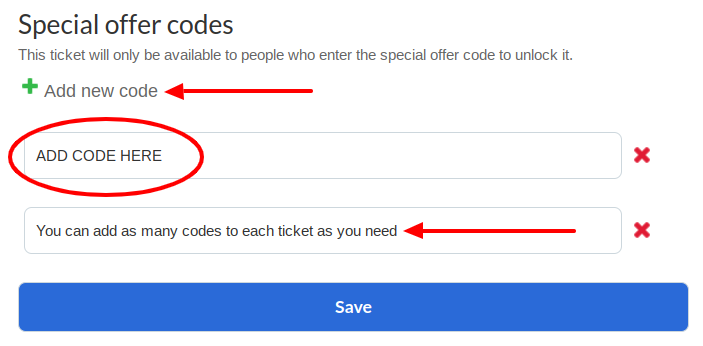 Now that the code is added, save the ticket and the code will be usable within 30 minutes.
What is a promo code used for?
The best thing about a promo code is it allows you to have discounted tickets available to only a selection of customers i.e. if you have a mailing list where previous customers get to buy tickets at 10% off, then you send them the promo code to access the tickets.
The main drawback is that there's no restriction on who can use a promo code. This means customers can potentially pass them to others who you didn't want to purchase the tickets. Keep this in mind when handing out promo codes.
If you are interested in offering a discount to selected customers only and want to ensure they can't pass the offer on to their friends, please read our article about the difference between promo codes and one time links here