To list an event on our website, you will need to go here and either log in to your existing organiser account or create one here. If you haven't created an account with us yet, you can do so by clicking on 'Create Account'.
Once you're logged in, click on the drop-down menu next to 'My events' on the left-hand side - and click on the 'Add an event' option.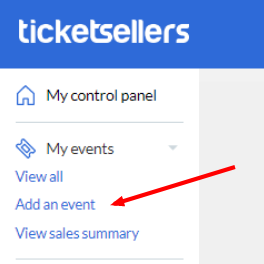 From there, it should be largely self-explanatory, but here are a couple of hints:
Tickets on/off sale: If you set a date to start ticket sales, a countdown clock will appear on the event page, counting down to the date you set.
Barcode release: It is your choice as an organiser when tickets get sent. However, if tickets are likely to be months ahead of the event, like many festival tickets are, you may choose to send tickets 3-4 weeks ahead of the event, so customers are less likely to misplace their barcode email.